11 April 2013
Ditchy drops down to "League 1" to join Star Radio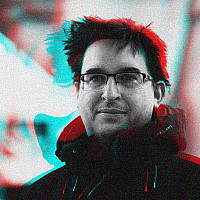 Former Real Radio and Radio Aire presenter, Ditchy, has joined Star Radio replacing Tom Davies at Drivetime.
While Star North East have said they're delighted with their high profile capture, Ditchy admitted in an honest blog post that he didn't have much choice in the matter:
"A few of my fellow professionals have laughed a little at the thought of me going there to work and I'll be honest it wasn't my first choice (it's my only) I'd be lying if I said I would choose working there over a show on say Key 103 or Rock FM, Radio City etc and Robin [Banks, Star North East programme director] knows that,  I know I can still do a job at a big city station (sadly I don't think anyone else does) only yesterday I did Sunday breakfast on Radio City and sat there 450ft above Liverpool in that iconic building thinking to myself why can't I land a full-time gig here? What is wrong with me?"
He described the move as like being relegated to League One - where Key 103 and Radio City were the Premier League and his Daytime show on Radio Aire was the Championship.
"That is in no way a criticism of my next radio station in size it's nowhere near the big boys one day it hopes to be but not yet."
Ditchy and Salty
Ditchy was one half of the hugely successful Ditchy and Salty Breakfast Show on Real Radio. Axed in 2011 as part of line-up changes, they presented the programme for more than 3 years. After that Ditchy went on to cover Daytime on Radio Aire, but wasn't offered the position full-time:
"I was told they were going to advertise the job they told me the kind of presenter they wanted, someone with at least 5 years experience…yup got 18, someone who can talk to a 34-year-old female…yup I'm married to one, someone who knows Leeds….yup I've lived there 10 years…and so on you know the script! I was told I can apply for it, as you can imagine I was a little pissed about what had gone on but I gave it some thought and after a week decided to get my arse into gear and apply I sent an email with my demo backed up by Rajar figures from my previous time at the station and waited to hear……an acknowledgement of receiving it maybe?…nothing not a sausage I'm no clairvoyant but I'd taken from that that I probably wasn't wanted so I decided to look elsewhere!!!"
However, he did say he left on good terms.
As for Star Radio, he admitted the the draw was to do with the freedom they were allowing him:
"I have a manager who believes in doing creative radio, radio that engages the listener and doesn't just sell text mechanic after text mechanic its owned by a company that are constantly voted in the top 100 companies to work for and it believes in looking after its staff as the MD told me you'll not get rich working here but you'll be looked after and not have to look over your shoulder all the time worrying about someone taking your job every couple of months and the best thing, hopefully I can play a big part in taking it up a couple of divisions."